MATTE LAMINATION + GOLD / SILVER FOIL
Print silk laminated business cards stamped with a slightly raised reflective gold or silver foil that will make your design pop. These premium personalized business cards make a striking first impression.

Special features:
• Comes in gold or silver foil • 14PT+2PT laminated stock
• Works best with dark colours • 100-5000 quantity
• Round corners available • Foil is slightly raised but not embossed
Unique pearlescent paper fibres that give off a metallic shimmer when viewed at a certain angels. With a smooth, subtle glitter, this stock gives the illusion of having a crystal coating.

Special features:
• Ingrained with pearl fibres • Pearlescents 110lb
• 100% recyclable • 100-5000 quantity
• Round corners available
Kraft paper customized business cards with a natural vintage look printed on a sustainably produced, 100% recycled card stock. These rough textured cards also make excellent product tags and gift tags.
Special features:
• Printed on 100% recycled paper • 18PT Kraft Board
• White ink coming soon • 100-5000 quantity
• Round corners available
File Setup Tips:
• Use a contrasting color that won't blend into the brown stock (black is popular)
• Any area with no color values will be left blank (not printed white)
• Spaces left blank will show the brown stock
• Can be designed for more than just business cards, e.g. product tags or gift tags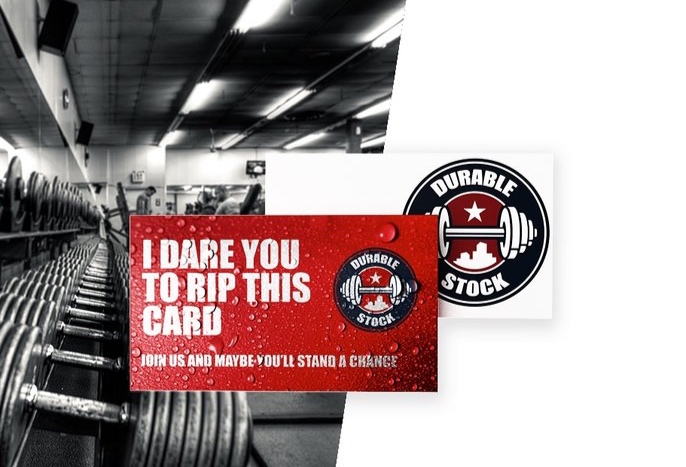 Durable stock completely waterproof and tear resistant, this recyclable synthetic paper can withstand the worst conditions with out in running off, making them perfect for membership cards or loyalty cards.
Special features:
• 16pt Tear / Waterproof Stock • 100% recyclable synthetic paper
• Ink will not run off • 100-5000 quantity
• Round corners available
MATTE LAMINATION +SPOT UV
Add a clear spot coating to your silk laminated business cards to enhance the most important parts of your design. The slightly raised spot UV creates a transparent glossy effect similar to a spot vanish.
Special features:
• Clear spot UV • 14PT+2PT Laminated Stock
• 500-5000 quantity • Round corners available
• Spot UV is slightly raised
Thermographic Raised Letter
Thermography is a raised printing process that leaves a tactile finish to the print with a slight glossy shine.
38PT Luxury Business Cards
Multi-3 ply layered cards with a colored layer in the middle and
two outer white layers
38PT with Coloured Edges (Red, Blue or Black)
Available Full color CMYK: 1 sided (4/0), or 2 sided (4/4)
Quantities Ranges from 50 to 1,000
Soft Touch Business Cards
Soft touch 17 pt business cards have a matte, velvet feel that elevates these custom printed cards to the next level of premium printing. Print soft touch business cards wholesale now to feel the texture for yourself!
Notes
Delivery times are approx. 14 days for these Specialty Cards.
Min. order 100 cards
SPOT UV min. card order is 500 cards